Ford Diagnostic tools

FCOM diagnostics software allows you to perform complete diagnostics of all 1992-present Ford models. Diagnostics is performed via OBD-II connector (which is located near steering wheel).
You can order all our Ford related products online from our sister website
www.obdtester.com/order
. We ship worldwide.
FCOM
FCOM
is diagnostic software for Ford vehicles. Although it was not primarily designed for Mazda and few other brands, it works quite well with these vehicles. Smart multiplexed Ford OBD2 to USB diagnostic interface is included in price.
FCOM
is able to diagnose wide range of control units (PCM, ABS/ESP/VSC, IPC, BCM, ...) and covers vehicles since 1996.
[Read more...]
.
PATSCode.com
PATSCODE.com
is online authorization service for all Ford coded passive anti-theft system (PATS) immobilizer operations. It can be used with both
FCOM
and Ford IDS.
OBDTester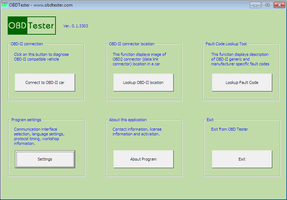 OBDTester
is universal, fully-featured OBD2 diagnostic solution.
OBDTester
comes with
ELM-USB OBD2 interface
and works under Microsoft® Windows XP/Vista/7, Linux or FreeBSD. Although
OBDTester
is generic tools, it is possible to use it for Ford PCM diagnosis, making it ideal low-cost solution for hobby users. Please note that other control units (ABS, IPC BCM, RCM, etc) cannot be diagnosed with OBDTester. For these you need to purchase
FCOM
.
See also
Ford FDS2000
Ford IDS / Ford VCM
Contactform
If you need more information about our products, please use this form. You can also mail us at <info@secons.com>.