Ford WDS 2000
WDS 2000 is Fords latest World Diagnostic System released in 1996 for all OBD2 equipped vehicles. It has replaced the earlier FDS2000. It is a lap-top computer which receives a diagnostic routine from a docking station and is then carried to the Ford model and plugged into the diagnostic interface.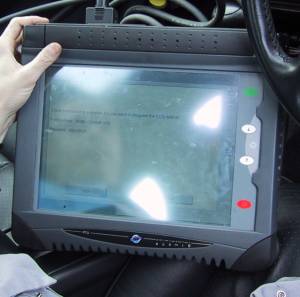 The operator follows the program on the laptop by using the touch screen, following a set routine while the WDS communicates with the various modules which may be affected. At the end of the routine the operator is informed which part or module is faulty and needs to be changed, or is told the next program to download to continue the diagnosis. By following the instructions on the screen, touching the screen to confirm each stage and move on to the next, the operator ends up with the solution, and is told the action to take.
But supposing the fault only occurs at seventy miles an hour? Well, no problem. The WDS can be used by a skilled and trained operator for running tests so that it can look for the fault while the vehicle is being driven. This option is called the Datalogger, but it needs a skilled operator who is experienced in operating parameters.
Ford Diagnostic Requirements
GGDS: Generic Global Diagnostic Specification
ISO15765: Diagnostics on CAN
ISO14229: Universal Diagnostic Services (UDS)
ISO15031: On-Board Diagnostics (OBD)
SWDL: Software Download Specification
Frequently asked questions
Q: Do I need a LAN connection to Ford Star to use my WDS?
A: No. The Ford Star connection is only required to receive QSF (Quicker Service Fix) calibration updates between regular CD releases and for session transfers to the Hotline to assist in problem resolution. WDS is designed to operate in all markets while FORDSTAR is only available in North America.
Q: Ford told dealers that the NGS would not work on 2000 models and the only diagnostic system would be WDS.
A: Initially, there were no plans to release software on the NGS to support 2000 Model Year Vehicles. WDS has advanced diagnostic capability not included on NGS (for example, power balance and fuel tests) and is viewed as the best tool to fix a vehicle. However, due to service volumes in the US, there were requests to implement software on NGS. This helps not only with the service volume concern but also provides adequate time to get trained on WDS.

Important notice:
Please note that this page is about original diagnostic tool provided by vehicle manufacturer. The tool can be usually bought only by authorised dealer. We do NOT sell this equipment. The page is intended only for educational purposes.
We provide our own third-party scantools for automotive diagnostics, both for after-market repair and as an alternative for original delaer tools. Please use navigation bars at the top of this page or left navigation menu to select appropriate diagnostic software.