Original Mercedes-Benz Star Diagnosis System (SDS)

The Mercedes-Benz Star Diagnosis System (SDS) is based on a Thinkpad and includes cables to interface to the various models. The system doesn't have the ability to disable safety and security systems. The Hand Held Tester (HHT) part number 965 589 00 01 00 and the adapter harness 965 598 00 40 00 are being phased out.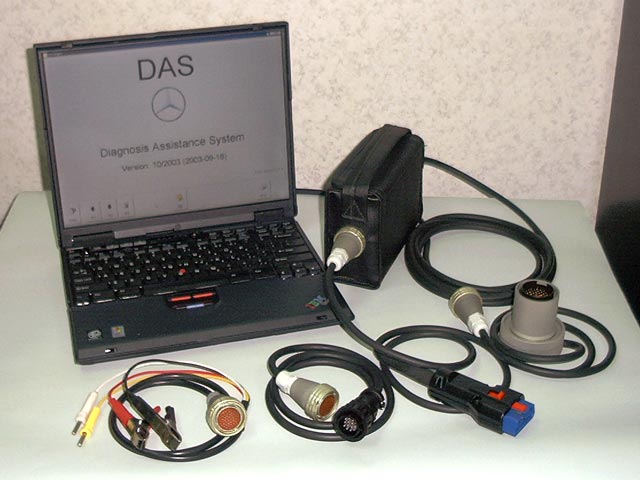 The package includes:
1 X Multiplexer
1 X IBM NoteBook Computer
1 X RS-232 cable
1 X OBD II (16 pin) diagnostic cable
1 X 38 pins diagnostic cable
1 X 3 Pins diagnostic cable
1 X 9 Pins TRUCK diagnostic cable
Works on 12V and 24V, all vehicles supported (Cars, V-class, Truck, Bus, Unimog, Industrial engines)
The Mercedes Star Diagnosis compact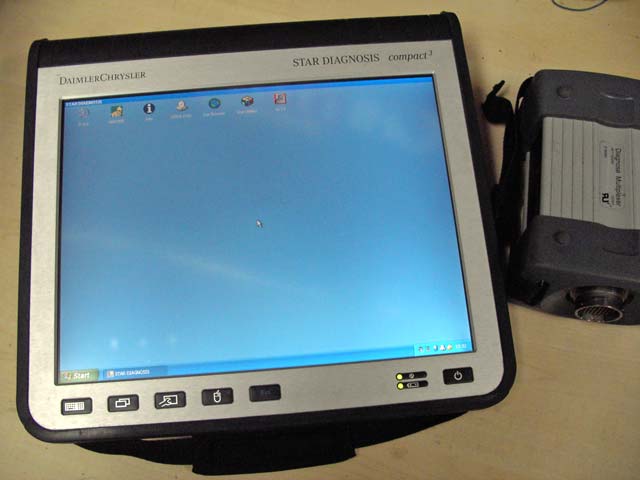 is lighter and easier to handle than the predecessor COMPACT II, and with just 3 kg only half the weight. It's 36 x 34 cm with a 15" touchscreen viewable even from the side up to 170 deg. Other features include single button DAS<->WIS switch, ASRA, 1.1 GHz Pentium M, 60 GB HD and USB 2.0 port compatible with Measurement Technology equipment. In the summer of 2006 the less expensive Mercedes SDS basic2 was introduced.

Important notice:
Please note that this page is about original diagnostic tool provided by vehicle manufacturer. The tool can be usually bought only by authorised dealer. We do NOT sell this equipment. The page is intended only for educational purposes.
We provide our own third-party scantools for automotive diagnostics, both for after-market repair and as an alternative for original delaer tools. Please use navigation bars at the top of this page or left navigation menu to select appropriate diagnostic software.