PSA Peugeot planet 2000

Important notice:
Please note that this page is about original diagnostic tool provided by vehicle manufacturer. The tool can be usually bought only by authorised dealer. We do NOT sell this equipment. The page is intended only for educational purposes.
We provide our own third-party scantools for automotive diagnostics, both for after-market repair and as an alternative for original delaer tools. Please use navigation bars at the top of this page or left navigation menu to select appropriate diagnostic software.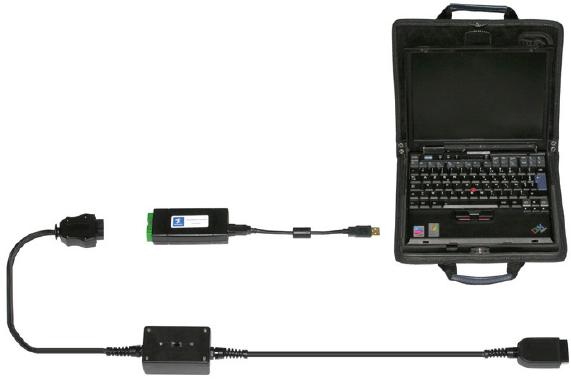 Peugeot Planet 2000 is diagnostics software and hardware used in autorized Peugeot workshops.
The software runs on Windows XP. Peugeot Planet 2000 interface is connected to computer via USB cable.
Hardware
An IBM Thinkpad X31 laptop computer with Windows XP Pro operating system, Norton anti-virus software (with 3-year Internet update), an integrated Wi-Fi card for wireless communication via Internet and a Bluetooth card. The equipment is covered by a 3-year on-site warranty. PC specifications: . 1.4 Ghz Intel Centrino processor, 40 Gb hard disk, external DVD drive. . A Mobilis Kevlar protective cover with keyboard protection and shoulder strap. . PEUGEOT PLANET Diag and PEUGEOT PLANET 2000 diagnostic and repair software is already installed but requires to be configured. . An ISDN modem / router: - Provides the Internet link in the workshop via a digital line but other types of modem can also be adapted depending on the local requirements, such as Standard STN or ADSL modems. - The power supply is a 220 V / 17 V transformer (the largest). . A Wi-Fi access point for wireless connections - Allows you to send secure data by wireless connection to one or more PCs within a 100 meter radius around the terminal. - The power supply is a 220 V / 5 V transformer. . A diagnostic tool/vehicle link using the Peugeot Planet Interface (PPI) communication card - Supplied with USB cable, 16 channels interface and 2/30 channels cable kit. - Communicates with all protocols used by ECUs installed in Peugeot range vehicles.
Alternative hardware
ThinkPad 600X 2645 - PIII 450 MHz - 13.3" TFT
General
MPN:

6007EGE

Recommended Use:

Small business, corporate business

System Type:

Notebook

Built-in Devices:

Microphone, stereo speakers, keyboard, display, TrackPoint

Width:

30 cm

Depth:

24 cm

Height:

3.7 cm

Weight:

2.3 kg

Colour:

Black

Localisation:

German / Germany
Processor
Processor:

Intel Pentium III 450 MHz

Data Bus Speed:

100 MHz

Chipset Type:

Intel 440BX
Cache memory
Type:

L2 Cache - Advanced Transfer Cache

Installed Size:

256 KB
Ram
Installed Size:

64 MB ( 64 MB soldered) / 576 MB (max)

Technology:

SDRAM - 100 MHz

Form Factor:

SO DIMM 144-PIN
Storage controller
Storage
Floppy Drive:

3.5" 1.44 MB floppy - internal / external

Hard Drive:

6 GB
Optical storage
Type:

1 x CD-ROM - removable plug-in module

Read Speed:

24x

Compliant Standards:

Kodak PhotoCD, CD-DA, CD-XA, CDi
Display
Display Type:

13.3" TFT active matrix integrated

Max Resolution:

1024 x 768 ( XGA )

Widescreen Display:

No

Colour support:

24-bit (16.7 million colours)
Video
Graphics Processor / Vendor:

NeoMagic MagicMedia 256ZX (NM2360) - AGP 2x

Video Memory:

SGRAM - 4 MB

Supported Display Graphics:

VGA (640x480), XGA (1024x768), SVGA (800x600)
Audio
Audio Output:

Sound card

Compliant Standards:

Sound Blaster 16/Pro, AC '97

Audio Input:

Microphone - integrated
Telecom
Modem:

Fax / modem - mini PCI

Max Transfer Rate:

56 Kbps

Protocols & Specifications:

ITU V.90
Software
Standard operating system: Windows XP Pro,
Automatic centralized diagnostic software: Peugeot Planet Diag,
Parameterization and electronic configuration software: Peugeot Planet 2000,
Interactive wiring diagram software on the INFOTEC internet site,
Diagnostic information in the diagnostic section of the INFOTEC Internet site. Including the following communications software:
VNC: allows the Peugeot Assistance platforms to take over the PPS tools by remote control,
Internet Explorer: to access the constructor.s Internet site and particularly INFOTEC (wiring diagrams, etc.),
Norton Anti-Virus: anti-virus software.