BMW DIS Scantool

BMW DIS - Diagnostic & Information System
Contains Technical Information System (TIS)...this includes technical literature of repair manuals (from E36), Service Information Bulletins (from 1988), Technical Reference Information Bulletins (from 1988), Technical Data, Tightening Torques It uses a 486DX2/50MHz running on a UNIX based operating system. Monitor is a touch screen type. 500mb hard drive, one 3 & 1/2" floppy disc drive. Two CD ROM drives. Two Future expansion slots. Contains backup batteries, Air conditoning unit, printer, MoDiC station, and various diagnostic cables.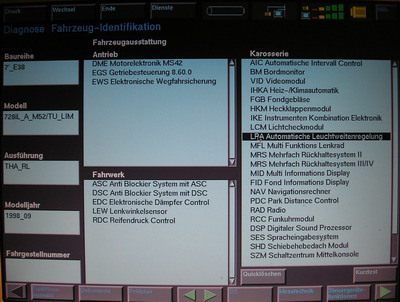 Important notice:
Please note that this page is about original diagnostic tool provided by vehicle manufacturer. The tool can be usually bought only by authorised dealer. We do NOT sell this equipment. The page is intended only for educational purposes.
We provide our own third-party scantools for automotive diagnostics, both for after-market repair and as an alternative for original delaer tools. Please use navigation bars at the top of this page or left navigation menu to select appropriate diagnostic software.